Your cart is currently empty
VetteNuts 97-04 C5 Corvette Double Din Radio Bezel/Console Surround FREE SHIPPING
*Note:
This product is not eligible for rewards points earning.
*Note:
This product cannot be redeemed using rewards points.



10/06/2021
The Bezels are loaded and shipping out in two days 10-08-2021. As long as there are no delays at port here in the states we will have them in 35-40 days. We will keep everyone posted as we get updates on arrival dates.
The long wait is finally over!
I want to personally thank all of you for your patience and understanding during this time.
Sincerely,
Marc
UPDATE 8/09/21
We have been lied to yet again by the Chinese Brokers. They sold our spot for more money and did not communicate with us until Friday. I can't begin to tell you how angry I am with the current situation, also since we booked 4 weeks ago the price has gone from $12,500 to $17,500. The cost we have been paying for years was $3500 for the same size container. We are currently trying to book a partial container to get enough bezels here to fill all orders and have some inventory. I am hoping to get an answer today 8/09/21. I will let you know as soon as i get them scheduled. The only positive to come from this is we are looking at bringing the mold back for production right here in the USA. That's where we wanted to be in the very beginning however it wasnt cost effective at that time. Given the shipping cost increase along with all the delays and dealing with crooked brokers the odds are looking good that we can justify producing them in the states. Also for anyone who wants a refund send us an email at Sales@vettenuts.net and we will process it right away. I am truly sorry for all this, it is one of the most frustrating things I have ever dealt with. We will get it sorted out I can assure you.
Sincerely,
Marc Rose
UPDATE 6/25/21
SALE ENDS 7/6/21
GOOD NEWS EVERYONE. THE BEZELS WILL BE LOADED AND SHIPPING OUT FROM CHINA ON 7/6 AND HAVE A SCHEDULED DELIVERY DATE AT PORT IN NORFOLK, VA ON 8/6. EVERYONE WILL HAVE THERE BEZELS IN THERE HANDS AROUND 8/15. THANKS TO ALL OF YOU FOR BEING UNDERSTANDING DURING THIS LONG WAIT PERIOD.






VetteNuts C5 Corvette Double Din Radio Bezel
Free Shipping to lower 48 only.
Includes Custom 3d Printed Radio Brackets
(6/20 WE STARTED USING THE SOLID BRACKETS AND NO ISSUES ALL ALL. WE HAVE SOLD over 600 SETS)
100% Satisfaction Guarantee
VetteNuts

Double Din Radio Console for the C5 Corvette!
Want to add a new radio into your C5 and keep the OEM

appearance

?
With 1000's sold you have come to the right place for your double Din Bezel.
Our radio consoles are injection molded the same way GM made the originals, the texture or graining is stamped into the mold, not a spray-on added later. This insures a uniform product every time. Unlike others on the market, our console retains that factory GM look and feel while keeping the cigarette lighter door and cup holder lid intact. You DO NOT have to relocate your Ac Control. Our bezel comes complete, the only thing it does not come with is the 12v cigarette lighter,You will need to install yours into our bezel. They simply unscrew and will take a matter of seconds to transfer.
We could have cut corners and made a cheaper bezel, however we knew our C5's deserved a better product, and you know how VetteNuts feels about C5's. So the end result is the VetteNuts Double Din Bezel.
BY KEEPING THE THE 2 DOORS and THE CUP HOLDER RUBBER, THE MOLD COST INCREASED along with assembly. The large door has metal springs on each side, the same as they were from GM. All of these items add to cost because we had to make every single component and assemble them. We felt the bezel had to look OEM - like it came with the car.
*We offer full audio packages and installation here at our location in Bell Buckle, TN. Contact us for quotes on any of our audio services.*
If you are using a head unit that the screen tilts down for Cd/DVD player. The opening for the radios is an exact fit, we see some tilting units where the screen will touch the sides of the bezel. This causes the screen to stop as soon as it detects any resistance. The cure is to file the edges of the bezel to allow more clearance. This in no way affects the bezel finish. This is 100% safe to do and 100's have been done this way.

We have found that the two plastic tabs on the top of the bezel can cause an interference when installing the radio. Due to the raising of the head unit upward. We

recommended

cutting them off and this will not affect

alignment

or the bezel staying up against the dash. The screws and the two 10mm nuts are what holds it in place.
**There are modifications that will need to be done to the C5 to accept a new head unit. Please look at the picture above showing the areas of the cage that need to be trimmed. With our bezel we moved the radio up instead of down. You do not have to relocate your AC controler. So at the top of the opening for the radio there is an area where the dash hangs down in the way. This will need to be trimmed back flush. There is also two metal tabs at the rear of the cage up top. Those will need to be removed unless you are installing a radio w/o a CD/ DVD player. Some of these units are shorter and do not require the rear tabs to be removed. And as with any double din install the cross bar under the oem radio has to be removed. Do those 3 things and your new head unit will slide right in **
Please email or call for more information or with any questions you may have.

sales@vettenuts.net
615-896-6100
***NOTE - Pictures are of the actual product installed. It does not include the traction control plate or radio. ***
Our Bezel has that OEM look and feel just the way they should have been made 20 years ago!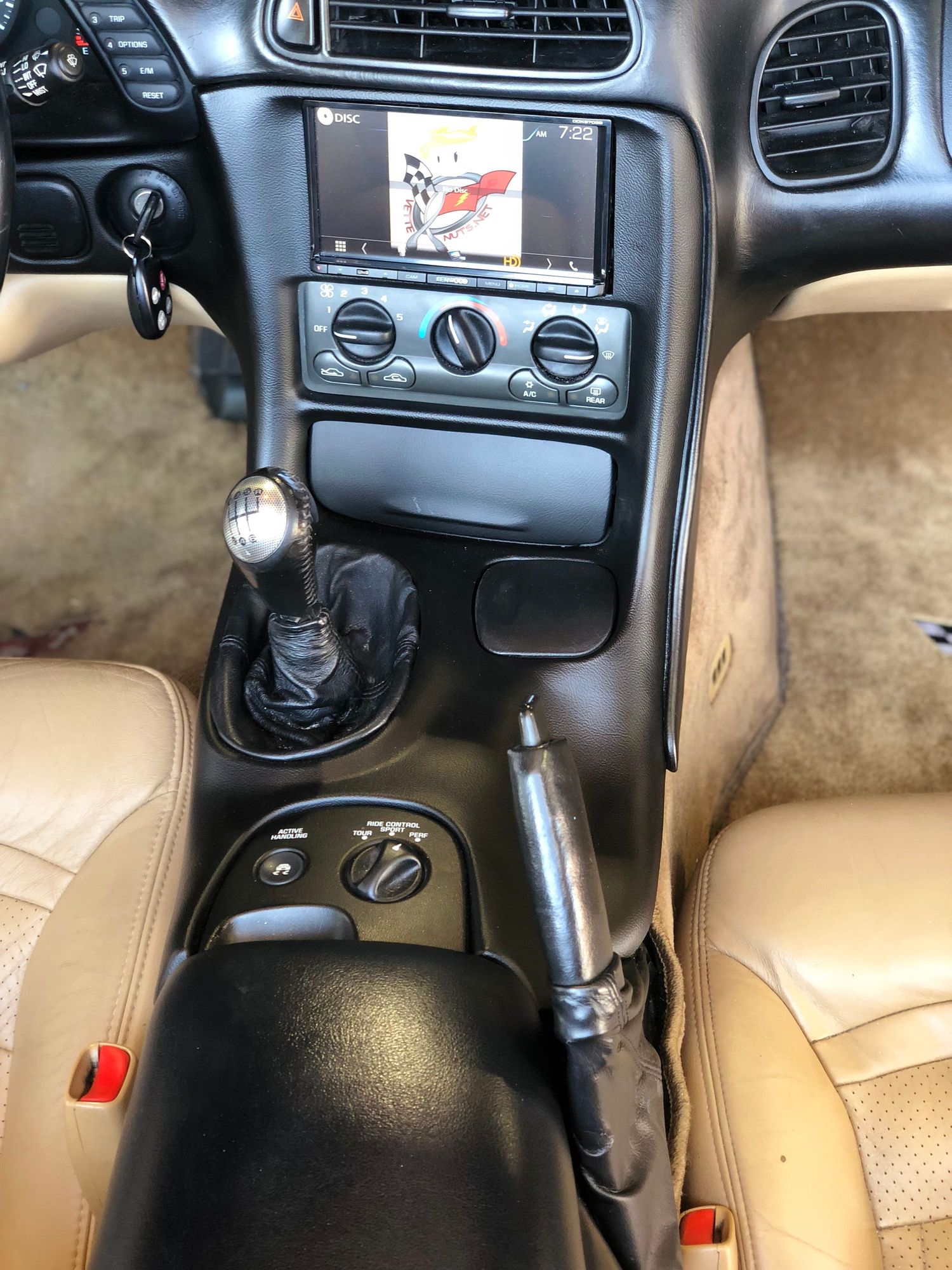 Vettenuts

Double Din Radio Bezel
We also offer complete audio packages along with our C5 Corner Sub boxes for a system that will blow your mind!
Dont forget to add one of our Insulation Kits while doing the install. They make a huge difference in audio quality and your hands free mic working without all the back ground noise interfering.
Got this installed yesterday and it looks awesome. Finish matches perfect and the fit is perfect. Made my interior look like new again and my double din Pioneer looks like it came that way from the factory :)
This product is a dream come true. The material quality and fit match is so perfect that most people ask if it's a 2010 or so in order to have come with such a modern stereo from chevy. There is a cheaper bezel sold by metra and it is pretty crappy compared to this.
Worth every penny. Matches factory grain perfectly and looks great. Thanks for the excellent service Marc.
Excellent piece of work. Thanks a bunch for the quick service too.
BB